CHOCOLATE BRAILLE GIFTS
FOR THE BLIND & THE VISUALLY-IMPAIRED
original manufacturer : THE CHOCOLATE EXPERIENCE, Inc.
[ For Text Only ] [home frames] [home noframes] [ order ]
The most unique edible Braille greeting cards around !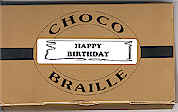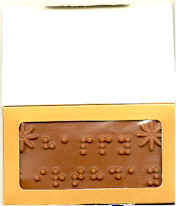 Size: 7" x 4"
Weight: approx. 5 oz ea.


EACH OF THE CHOCOLATE BARS IS:
Braille-embossed with one of 13 assorted Braille greetings
(see below).

Individually enclosed in plastic & in a sturdy,
fancy gold window gift box.

Just lift the cover and read the Braille through the window.

You can enhanced the gift by adding nuts & music.
Available in either Gourmet or Sugar-Free
Milk, Semi-sweet or White chocolate

THE 13 AVAILABLE GREETINGS ARE


| | |
| --- | --- |
| message | = can add musical chip |
| PROMOTE BRAILLE | |
| HAPPY BIRTHDAY.................. | |
| I LOVE YOU............................. | |
| THANK YOU - Small Size | |
| THANK YOU | |
| HAVE A NICE DAY | |
| GOOD LUCK | |
| CONGRATULATIONS............. | |
| HAPPY ANNIVERSARY.......... | |
| HAPPY RETIREMENT | |
| MERRY CHRISTMAS.............. | |
| HAPPY CHANUKAH | |
| HAPPY EASTER...................... | |
| HAPPY HOLIDAYS | |

CHOCO BRAILLE ® GREETING BARS' PRICE LIST


$5.00 per bar
$6.00 with added nuts
$6.50 with added musical chip
$7.50 with added nuts & musical chip
Add $4.00 to enhance details with colors
"THANK YOU" Business card size bar - $2.25
cannot add nuts or music
SUGAR FREE: Add $1.50 to above prices
Minimum Order for braille bars only - $50.00
Organizations, resale & wholesale prices available, call - 718-461-1873

Call us about custom molds
(Shipping is extra - INFORMATION FOR BRAILLE ONLY)
[ ORDER ]
[ back to top page ] [ back to Messages ]




For more details please call Judy at:
(718) 461-1873
See ordering information or
E-Mail:[chocomelt@aol.com]
© Choco Braille/The Chocolate Experience, Inc. 1998