CHOCOLATE BRAILLE GIFTS
FOR THE BLIND & THE VISUALLY-IMPAIRED

"CHOCO BRAILLE"® by
THE CHOCOLATE EXPERIENCE

B
r
a
i
l
l
e

GENERAL INFORMATION ABOUT CHOCO-BRAILLE
We specialize in unique GIFTS
for the blind &
the visually impaired
and have devoted the last
15 years to manufacturing
Choco Braille ®.

This is a "graphics" site = with pictures
Please note that we have a speech friendly / text only site tailored for easy use
& navigation by the blind & the visually impaired: [ www.chocobraille.com ]

Choco Braille® bars are excellent smile provoking GIFTS
as well as
successful FUND RAISING products &
unique educational BRAILLE AWARENESS tools !
In addition please check out our
assorted "LARGE PRINT" chocolate greeting cards.
After visiting the Braille related pages
Please browse the rest of our web site.
We custom make over a 1,000
Novelties, Favors, Center Pieces & Gift Baskets.
You will find in our vast selection delicious gifts for all your needs.
[ CHOCOLATE BRAILLE GIFT ASSORTMENTS] [ FUND RAISER INFO] [ CORPORATE ACCOUNTS] [ For Text Only ]

CORPORATE ACCOUNTS &
FUND RAISERS

1. Quantity Discount Available !!!

2. Custom Design your
fund raiser's or your organization's chocolate cards !!!
For an initial setup cost of only $125.00
you can have your name or message chocolate Brailled.
Use your customized cards as promotional souvenirs,
to commemorate special events or just as thank-you tokens.

Please visit our fundraising "tips" & Ideas page For more fund raising details or
call Judy at: (718) 461-1873
See ordering information or
E-Mail: [chocomelt@aol.com
Minimum order $100.00
For Braille bars only $50.00



back to Top | back to ASSORTMENT | | home page

.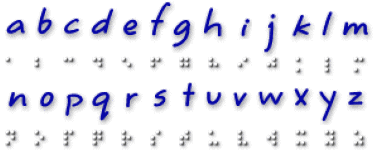 Information about [what is Braille ]
© Choco Braille is a registered trade mark by The Chocolate Experience, Inc. since 1998
all rights reserved, the information & graphics on this page
are the property of The Chocolate Experience © 1999
have you book-marked our site: http://www.chocomelt.com
[ BRAILLE GREETINGS CARDS] [ GUIDE DOGS ] [ BRAILLED VALENTINE'S HEARTS ]
[ EASTER BUNNIES WITH BRAILLE ] [FUND RAISING & CORPORATE ]