caramel with peanuts
Small. 6.75
Medium 7.50
Large 9.00
13.95this valentine's season we have taken our most popular apple and transformed it into a romantic apple! we take a huge granny smith apple, dunk it into some of our homemade caramel, dunk it into a vat of Belgian white chocolate, decorate it with red chocolate stripes and adorn it with red and white gold-edged ribbon and top it with sprigs of red hearts! shipped as shown.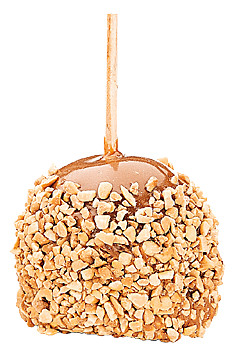 .caramel. Extra large cashews with milk chocolate. 10.95
Heath bars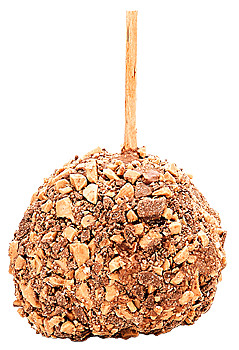 9.95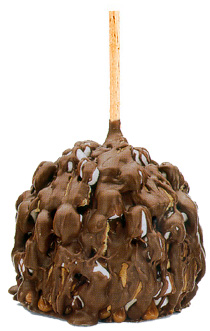 Graham Crackers and chocolate, 9.95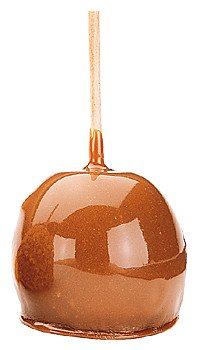 Granny Smith apple we can find covered with the best caramel arou 6.96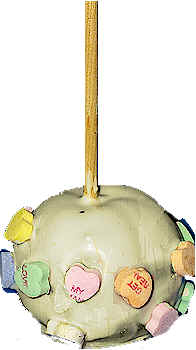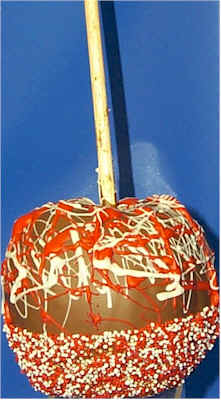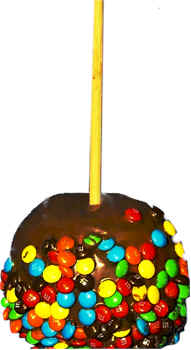 rice crispies 10.95
Our Gourmet Apples are the largest hand selected Granny Smith apples obtainable, blanketed with the smoothest, creamiest caramel, then individually hand sculpted with the finest of nut toppings, finished and topped with drizzles of the world's tastiest chocolate.
white, dark or milk chocolates,


CARAMEL APPLES! Our delicious and chewy caramel apples are only made with Washington State Granny Smith apples. There crisp, juicy and come with a variety of nut, chocolate and candy toppings. We have M&M caramel apples, white chocolate and chocolate, walnut caramel apples, sprinkles, pecan and chocolate, peanut butter caramel apples and several other apples to choose from. They make great Holiday gifts. BUY ANY 5 CARAMEL APPLES OR MORE, GET A FREE PEANUT CARAMEL APPLE. Your entire order at Candyandstuff is shipped for only $7.50.

Each caramel apple weighs between three-quarters and one pound depending on the toppings. To insure freshness, we first wrap them in a poly bag, and then an outer cellophane bag printed with seasonal decorations.


| | | | |
| --- | --- | --- | --- |
| Item # | Size | type | price |
| Plain Apple - Just chocolate | Small | | 2.50 |
| | Medium | | 3.00 |
| | Large | | 3.25 |
| Caramel apples with chocolate only | Small | | 5.00 |
| | Medium | | 5.50 |
| | Large | | 6.00 |
| Caramel apples with chocolate & Nuts | Small | | 6.00 |
| | Medium | | 6.75 |
| | Large | | 7.95 |
| | | | |
| | | | |
| | | | |
| | | | |
| | | | |
| | | | |
| | | | |
| | | | |


we take care of everything – send us a list of recipients, their addresses, the gift you would like sent and what you want the enclosure card to say. we take care of the rest – we personalize the gift, add the card, box it and ship it, all on the day you request.

quantity discounts – we offer the following quantity merchandise discounts:

$500.00 to $1000.00 5%
$1000.01 to $2500.00 10%
$2500.01 to $5000.00 15%
$5000.01 and up 20%